Submitted by Désirée.
We park by the waterfront in Burlington. An icy breeze is coming off the lake. I look at the Skyway and realize I've driven past this spot hundreds of times and always wondered what was here... well I'm finding out. A really cool playground, that I'd love to take the boys to on a warmer day. But we're here for a delicious meal, on no other day than my birthday. :)
Rushing through the cold evening air, we talk about which side of each other we walk on, and without resolving the importance or sense behind it we turn the corner to the small side street Lettuce Love Café sits on. A large poster is hanging on a brick wall, and I'm impressed by their presentation. A clean, well-lit exterior, buchsbaum and a slightly posh entrance intrigue me.
As we enter, I am struck by the clean, bright, crispness of the place. White furniture, white table tops. I worry about the mess I might make. Eek. A beautiful hand-written menu board above the counter makes me even hungrier than I already am and I wonder who has such perfect handwriting. We're greeted by a charming young lady who quickly recognizes us as Adam and Désirée from Niagara, who called ahead that we were on our way. We choose a table and I realize it is a self-serve setup.
We choose drinks displayed in a cooler, a berry mix for me (love my red drinks) and something fruity for Adam (because he's so sweet). We had already decided on appetizers in the car, which Adam orders promptly. We're both a bit hangry. As we wait we decide on our mains, and I want to eat everything off the menu. In time, I'm sure I will! We are served avocado fries and nachos. Wow. The avocado is perfectly ripe, sliced into wedges, rolled in spices and has a hint of warmth. Together with the chipotle dip, it melts in my mouth.
The coating on the avocado wedges is a tad crispy, and as you bite into it you sink into the perfect velvety softness of ripe avocado... have I mentioned avocado is one of my favourite foods on earth? Anyway... the nachos. Adam has already eaten half of them at this point. I'm just lost in avocado bliss. Crunchy corn tortilla chips (organic), with toppings that have been carefully chosen: tomato, onion, stringy melted daiya cheese, chili spiced beans, fresh cilantro, and a whole bunch of goodness. Vegan sour cream and salsa to dip. You've got crunch and spice, and gooey perfection. Every bite is delightful.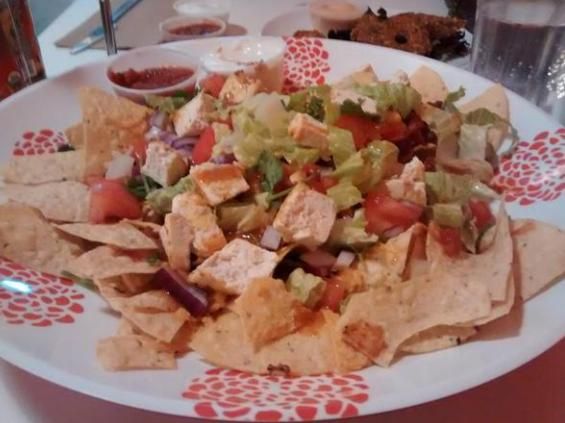 Our mains.... Adam chooses the grilled cheese. And I go with the Goddess bowl, because that only makes sense. As the waitress sets the wooden bowl down in front of me and I smell the food I'm about to eat, I sort of forget everything around me. Sorry Adam. Lol. My first bite - a forkful of grated carrots, some kale and a creamy sauce made of ginger, sesame and cashews.
Just for that sauce I need to go back to Lettuce Love. It was perfection. Maybe they can make a soup out of that sauce. The ingredients in that Goddess bowl - I felt like every item was carefully selected and prepared just to make my taste buds happy. Grated carrot salad, grated beets, roasted kale, and brown rice as the base. The rice is cooked just right, with a slight crunch to it, not sticky like mine ends up usually. More perfectly ripe avocado. Some sesame seeds sprinkled over it all...and that sauce. That sauce! Everything is right, from texture to colour to heat to flavour. Perfectly balanced, fit for a Goddess.
Where was I? Oh right, Adam is eating too... a grilled cheese so delicious it makes me wonder why I deprived myself of this vegan version for so long. Hats off to Daiya for creating the slices of cheddar-like cheese that melt so beautifully. The chia bread is golden brown and crunchy, and slices of fresh tomato round off the flavours to create a sandwich that makes my mouth water just thinking about it. Then of course Adam mixes hot sauce into the chipotle mayo it comes with to make a concoction that is just stunning to my taste buds.
Every. Bite. Of the meal is beautiful.
I get a doggy bag... I want to take some of the food home to make sure this wasn't just a dream. I feel blessed to have experienced such a perfect meal with an enchanting Scorpio.
Dessert? Of course! But who would we be if we didn't drive to another city for that!!
Lettuce Love Cafe

E-mail Special Guest submissions to specialguests@adamjosh.com